MotorHub
Office Hours : 8 am - 5 pm Daily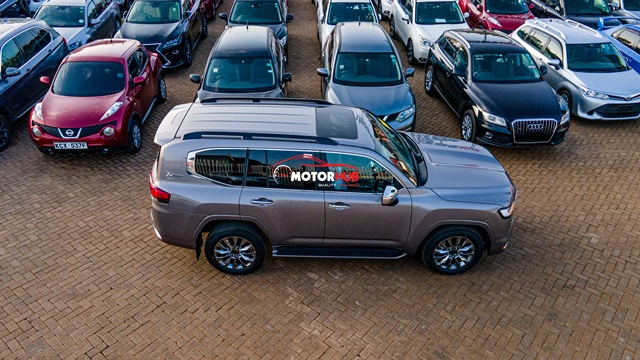 Toyota is renowned for building high quality, reliable car brands, a feat that has seen the car manufacturer feted as one of the leading automakers by revenue in the world, alongside the likes of the Volkswagen Group.

At the core of Toyota's SUV range is the Landcruiser, a brand with a rich heritage and proven track record in performance, handling and off-roading capability; from the first series of FJs produced in the 1950s to the very recent 200 series concluded in 2021.

The All New Landcruiser 300 Series offers class and opulence through a refined, all-rounded SUV that is perfect for your everyday and off-road journeys. Both the engine and design aesthetics of the car have received major upgrades from its predecessor.

The new Series offers a range of various trim levels, including the GX, GX-L, VX, VX-R, Sahara, Sahara ZX and GR Sport.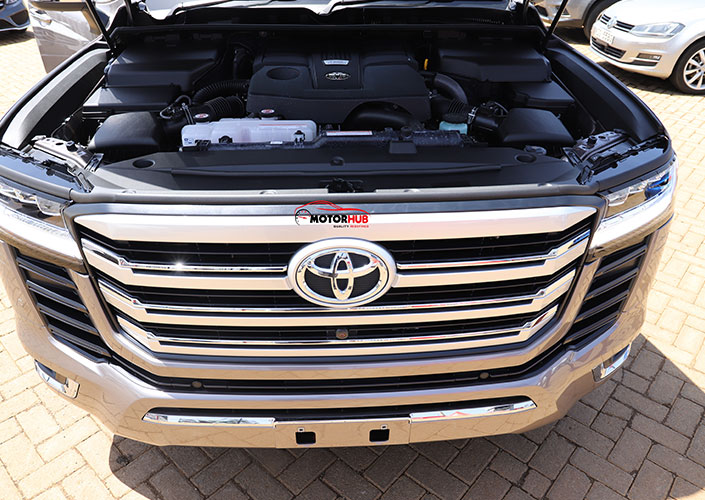 Engine

All cars in the 300 series are equipped with a standard V6 Twin-Turbo engine, away from the V8 engine which powered previous generations, with petrol and diesel engine variants.

The diesel engine has 3.3L (3300cc) displacement, producing 700Nm of torque and 304HP & 227kW of power at 4,000 RPM. These are pretty impressive, considering the previous generation's diesel engine churned 220kW of power through a thirstier V8 engine layout. The petrol engine on the other hand has 3.5L (3500cc) displacement and produces 650Nm of torque and 409HP & 227kW of power at 4,000 RPM. Both engines are mated to an all-new 10-speed automatic transmission system.

Claimed fuel consumption figures are 11L/100 Km in urban areas and 7.6L/100Km on highways, a combined estimate 8L/100 Km, equivalent to 12Km/L.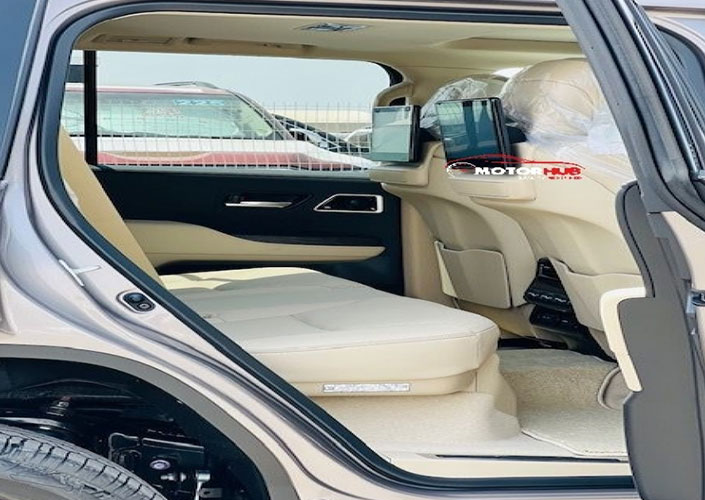 Interior

The interior of the 300 series has received a facelift, with a new, polished cabin that offers lots of new technology.

Key interior specs may vary from trim level to another, but mainly include:



5 or 7-seater configuration



Thumb start Ignition with Keyless Entry



Leather Upholstery



Electric, Heated & Cooled Seats with Lumbar Adjustment Support



Sunroof (some models come with a larger Moonroof instead)



Cooler Box



Electronic Handbrake



12-inch multimedia display screen



Two 11-inch Rear Entertainment Screens



14-speaker ®JBLTM Surround Sound System



Power folding third row seats



Power steering with Instrument & Media Control Buttons



Rear Climate Control pane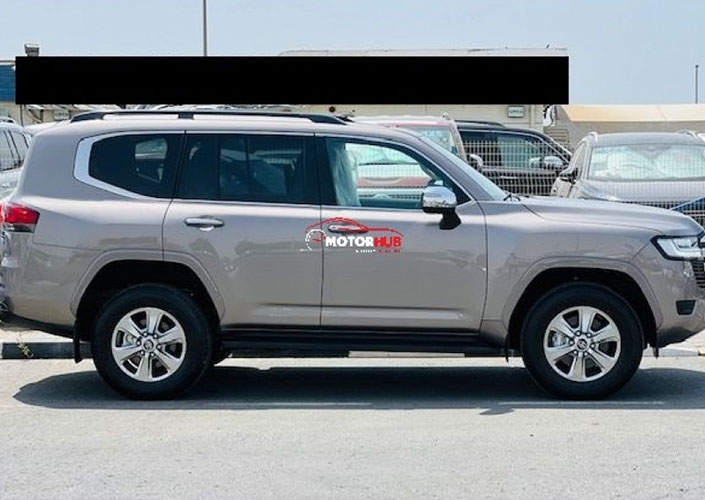 Exterior

The new Landcruiser comes with standard 17 to 18-inch wheels, depending on the trim model. The front grille is the most notable redesigned exterior feature, as well as a new tailgate design.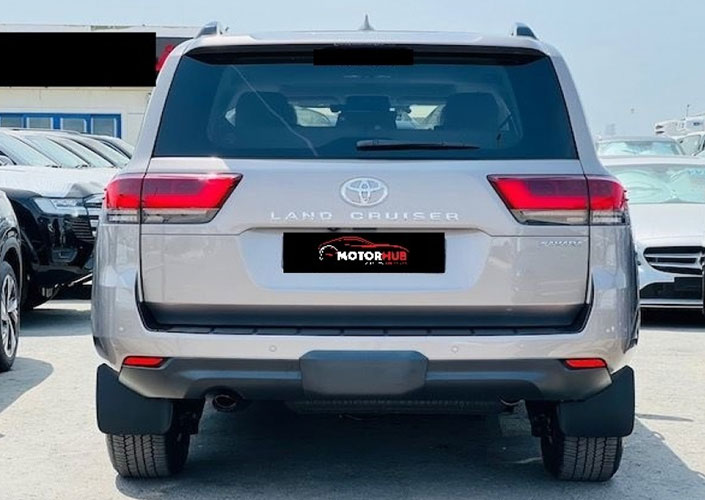 Off-roading

One of the reasons why people love Landcruisers is their offroading capability, ruggedness and ability to conquer tough terrains. For this, Toyota have maintained the same frame structure as on the 200 series, which accommodates a standard full-time 4WD system across the range. Multi-terrain driving modes are available in the new series, with more sophisticated components in the higher and more luxurious trims like the Sahara, Sahara ZX and GR Sport.

Additional features for offroading include:



Front, centre and rear locking differentials



Traction control to help navigate snow, gravel and muddy terrains with ease



Multi-terrain driving modes – Mud, Dirt, Sand, Rock, Snow as well as an Automatic mode.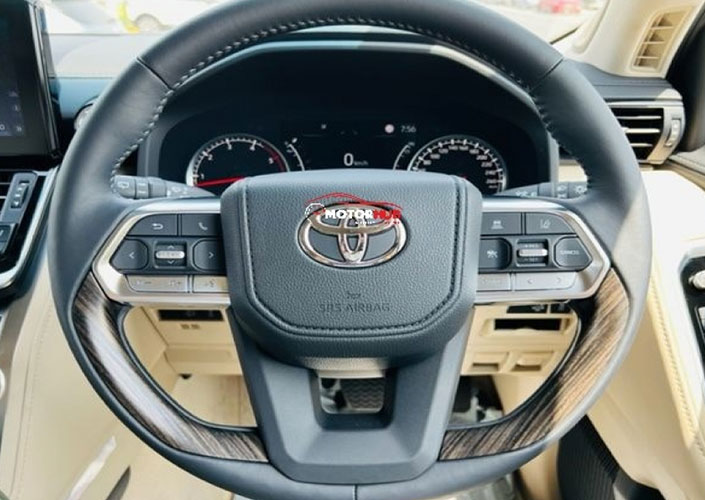 Safety

If safety is a priority for you, the LC300 range offers plenty of features to offer assurance as you navigate these crafty roads, including but not limited to:



Heads Up Display of the speed on the windscreen to keep the driver's eyes on the road



Lane Departure Warning to assist with overtaking and balancing the Landcruiser's wide body on the road



Downhill & Crawl Assist Controls for hilly and difficult terrains



Adaptive Cruise Control to offer a smoother ride especially on longer journeys



10 airbag system



Pre-collision sensors



Rear View Camera



Automatic adaptive headlights that light in dark environments, foggy weather and other environmental triggers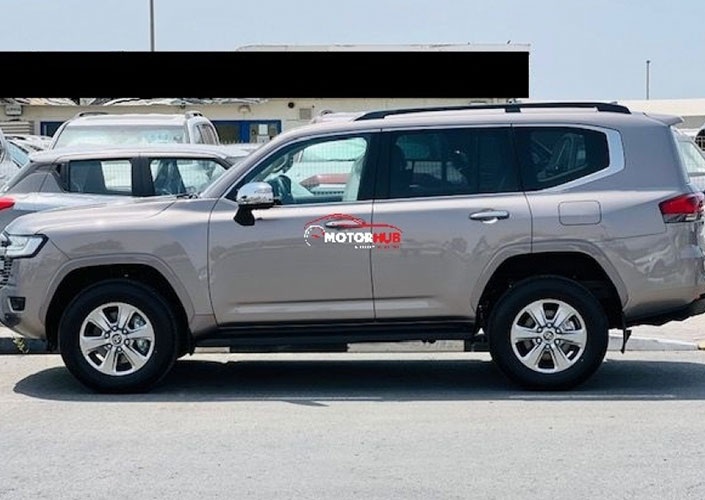 Pricing

Market prices of the Toyota Landcruiser 300 for sale in Nairobi, Kenya start from 23 Million KES, depending on the trim model chosen, specs and features. Interested? Call us on 0798500000 or visit our showroom at Ridgeways, along Kiambu Road in Nairobi, opposite Ridgeview Leisure Gardens Inn to arrange importation and delivery.

Click here to view Toyota Landcruiser 300s for sale in Nairobi Kenya - https://www.motorhub.co.ke/detail/toyota-landcruiser-300--sahara--391

Click here to view more cars we have in stock - https://www.motorhub.co.ke/all-stock

Trade in your car and top up to get a new one
Trade in Your
Car Today !!!
Find out the worth of your car.
Make an Enquiry
Copyrights 2023 MOTOR HUB. All Rights Reserved.| Privacy Policy & Terms Of Use | Designed & Developed by
Agency Africa